Marilyn and Clark's final flick is winner ___ 8/10
Review by Brian Wright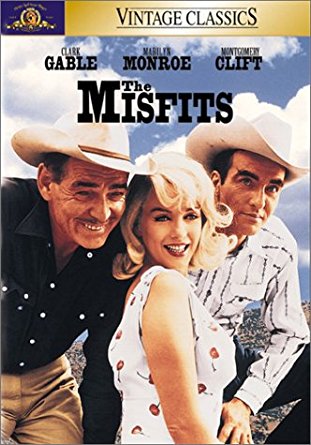 Roslyn: Did you ever think about gettin' married again?
Gay: Oh, I think about it; never in daylight.
Roslyn: If I'm going to be alone, I want to be by myself.
Guido: You have the gift for life, Roslyn. The rest of us, we're just looking for a place to hide and watch it all go by.
Directed by John Huston
Screenplay by Arthur Miller
Clark Gable … Gay Langland
Marilyn Monroe … Roslyn Taber
Montgomery Clift … Perce Howland
Thelma Ritter … Isabelle Steers
Eli Wallach … Guido
Kevin McCarthy … Raymond Taber
Estelle Winwood … Church Lady
This 1961 film is unique in several ways: a) it is the final film for Marilyn Monroe (that she completed) and Clark Gable (who died a few weeks after filming of a heart attack some attribute to doing his own stunt work), b) it was not a commercial success at the time of release but gained critical respect for its writing and acting, c) because of lack of control of production costs, the film was the most expensive black and white film to that time at $4 million, and d) adding to the troubles of production were the 108 degree heat of the northern Nevada desert and the imminent end of Monroe's marriage to writer Arthur Miller. Continue reading →