The untold story of the Israel's deadly 1967 assault on a US spy ship
By James Scott, Reviewed by Brian R. Wright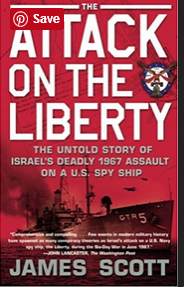 From the Amazon product description:
"Notorious incident: In 1967 the spy ship USS Liberty was attacked by Israeli fighter jets and torpedo boats in international waters during the Six-Day War. Thirty-four sailors were killed and more than 170 wounded, many critically. Israel claimed mistaken identity, which a U.S. naval court of inquiry confirmed, but that explanation is contradicted by the facts of the case.
"Based on new revelations: James Scott has interviewed Liberty survivors, senior U.S. political and intelligence officials, and examined newly declassified documents in Israel and the United States to write this comprehensive, dramatic account. He reveals that officers in Israel's chain of command were aware of the Liberty' s identity and shows how events in Vietnam prompted the American government to deemphasize the attack despite widespread disbelief of Israel's story.
"The son of an attack survivor: Scott's father, John, was an officer and engineer aboard the Liberty who was awarded the Silver Star for helping to save the ship from sinking."
Review
I very much appreciate Scott's book, and though I haven't yet read all of the key books about the USS Liberty (Liberty), it is certainly among the best written, Scott's journalism credentials show—Journalist of the Year per South Carolina Press Association in 2003. His descriptive prose on the attacks themselves shines: Continue reading →