Correct 'corrections,' send the innocent home[1]
by Brian Wright
---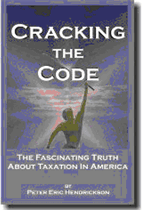 All right, so nobody's organized a protest yet, at least to my knowledge. With respect to Pete and a vigorous federal-state jail-system release program, let me suggest something concrete
—no pun intended. First some background:
Pete Hendrickson, author of Cracking the Code: The fascinating truth about taxation in America, having been convicted of obeying the law, has reported to Milan federal prison in Michigan, where he is to begin a 33-month stay. He was not allowed to remain free while on appeal, even though grounds for the appeal are a slam dunk on the level of human reason, decency, and justice:
In the trial, the Judge Rosen flat out lied to the jury about the contents of key federal tax statutes. The statute states X, and the judge told the jury that the statute states non-X. Further, this 'man' would not allow the jurists to read the statutes for themselves.[2] For details, please refer to my column of November 01, 2009.
Pete's Declaration Day Message
The following email was sent to Pete's LostHorizons.com mailing list.
Dear Friends,

As I languish here in durance vile over Declaration Day (aka Independence Day, 2010) weekend, I'm struck by the fact that what I am now experiencing is the very thing from which the CtC community works to protect themselves, their children and even their blithely ignorant and disengaged neighbors– the unrestrained state, acting on the basis that it rightfully owns and controls everything. That's a pretty good description of how things are in a prison, as it turns out…

It was in recognition of how such things go if not attended to that the Founders did all they could to provide us with the tools to preserve our liberties and rightful supremacy as free, sovereign individuals by asserting our own claims and power over those of the state. The only thing they were forced to leave to fortune was whether future Americans would be wise enough to recognize the need, and would set enough store by their liberty and dignity to use these tools even in the face of corrupt efforts to discourage them.

Happily, it has been my privilege and pleasure to learn that the people of this great country are not wanting in wisdom, courage, dignity and self-respect, not to mention mature and loving regard for the future well-being of their children.  Once the truth of the danger is made known to them, they stand, and upon learning of the tools ready at hand, they act.  Even while the corrupt enemies of the law try to use what I am going through to frighten the CtC-educated community into silence and surrender to the outlaws, more and more Warriors stand and act, and speak and bear witness to the liberating truth and to the corruption behind the efforts to suppress that truth.  To paraphrase George S. Patton: "God, I love these fine men and women!"

Anyway, I do hope everyone will reflect for a few moments on the fact that letting the runaway state have its way in ignoring the Constitution and in claiming an ownership interest in everything is to allow an increasingly rapid slide to where my immediate circumstance becomes your and your children's' way of life.  This is not because you or your children will wind up formally imprisoned; it is because a state unrestrained by competing and jealously-guarded widespread private interests eventually makes every place within the reach of its power into a prison, and there's no end to the sentence that everyone will serve for the crimes of apathy or cowardice.  You either fight it now all the way to victory, or start living the nightmare before very much longer.

By the way (and by way of lightening the tone a bit), I'm not actually languishing, of course.  Rather, I'm vigorously working on my appeal of this contrived and unjust conviction.

I ask all of you to help as much as you can, in the best way that you can, which is by ordering and distributing copies of CtC, 'Was Grandpa Really a Moron?' and 'Upholding the Law and Other Observations', and by sending the files you'll find below to everybody possible– especially folks in the media.  If you persist, the law will prevail.

Best Regards,

Pete
Then the following are the documents Pete refers to above that need to be understood and distributed widely and rapidly:
In a subsequent message to me, Pete's wife, Doreen, stated:
I had to deliver Peter to Milan on June 29th.  Our appeal is due August 11, but will be heard by the same court (6th Circuit) that denied our motion to have him remain free on bond pending appeal.  Their one and a half page opinion gave the reason as his appeal didn't have merit, or something like that, so I don't expect much.  I know he'd like mail from someone other than just me.  You can write Peter at:

Peter Hendrickson #15406-039
P.O. Box 1000
Milan FCI
E. Arkona Rd.
Milan, MI  48160

I might add that we need to help all those who are suffering grievously at the hands of runaway government, as I mentioned in my Liberty Dollar 4 column two weeks ago. Please write to Pete and then to help with all the damages inflicted by the federal Mob[3], consider sending donations to the Hendricksons care of Doreen at:
The Hendricksons
232 Oriole St.
Commerce Twp., MI  48382