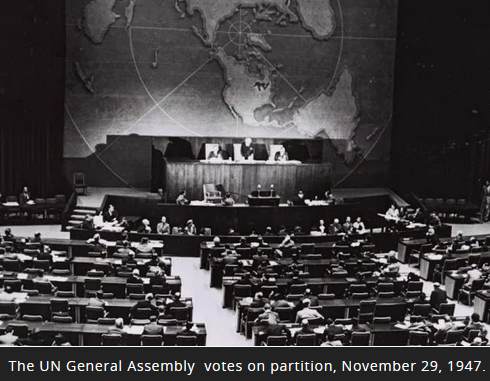 Israel and its partisans have been celebrating Nov. 29 as the 70th anniversary of the UN partition vote that some people believe created Israel. In reality, this vote was obtained through bribes and threats, was opposed by the U.S. State Department, and has no force of law. Individual Israelis, like Palestinians and all people, are legally and morally entitled to an array of human rights. On the other hand, the state of Israel's vaunted "right to exist" is based on an alleged "right" derived from might, an outmoded concept that international legal conventions do not recognize, and in fact specifically prohibit. — AW
The common representation of Israel's birth is that the UN created Israel, that the world was in favor of this move, and that the US governmental establishment supported it. All these assumptions are demonstrably incorrect.
In reality, while the UN General Assembly recommended the creation of a Jewish state in part of Palestine, that recommendation was non-binding and never implemented by the Security Council.
Second, the General Assembly passed that recommendation only after Israel proponents threatened and bribed numerous countries in order to gain a required two-thirds of votes.
Third, the US administration supported the recommendation out of domestic electoral considerations, and took this position over the strenuous objections of the State Department, the CIA, and the Pentagon.
The passage of the General Assembly recommendation sparked increased violence in the region. Over the following months the armed wing of the pro-Israel movement, which had long been preparing for war, perpetrated a series of massacres and expulsions throughout Palestine, implementing a plan to clear the way for a majority-Jewish state.
It was this armed aggression, and the ethnic cleansing of at least three-quarters of a million indigenous Palestinians, that created the Jewish state on land that had been 95 percent non-Jewish prior to Zionist immigration and that even after years of immigration remained 70 percent non-Jewish. And despite the shallow patina of legality its partisans extracted from the General Assembly, Israel was born over the opposition of American experts and of governments around the world, who opposed it on both pragmatic and moral grounds. Continue reading →