A study of Jewish Identity politics, by Gilad Atzmon
Perhaps the most significant book on the power metapolitics of our age
Reviewed by Brian R. Wright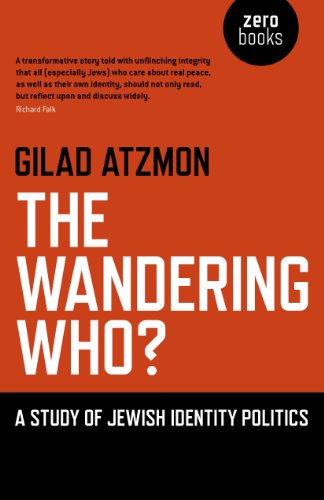 The Wandering Who? is one of those wholly extraordinary and intellectually sharp, even entertaining, missives in which readers will want to place a highlight on every other page. It is simply the most enlightening book you will read in the next decade or two about one of the most important subjects affecting the modern course of our species: the origin and rationale of "Jewish-ness" and its manifestations.
For roughly a decade, I've read a number of articles and books about and given thought to the puzzle. What is a Jew, fair and proper? Need I be concerned one way or the other? Friend or foe? Pro liberty or anti? Are Jews merely practitioners of a faith, a religion—if so, how does the fundamental doctrine square with humanitarian norms or my own secular Trumanism? Or are they, themselves, an ethnic identity, a 'people' who have generally been suppressed by conventional Christian society thru the ages? Or have they self-ostracized from surrounding culture, feeling chosen by God? Do they disdain, despise, and/or work to harness the non-Jew? Do they have an affinity for collectivism/communism? Further, how do we figure the genealogy? What percentage of  modern Jews, for example, descend, not from the Holy Land, rather from the Khazars of  the 8th Century? [Ref. Arthur Koestler, The Thirteenth Tribe (1976).]
Gilad Atzmon, perhaps the most unlikely of sources, yet a truly exceptional intellect, has laid all the answers bare… in terms that, well, a fairly conceptually oriented mind will find simple and straightforward. The material is not difficult, but does presuppose an interest in reading sparkling, independent scholarly treatises.
Since reading Alison Weir's equally vital work on Zionism and Israel several years ago, Against Our Better Judgment: How the United States was used to create Israel, I have thought, along with Ms. Weir and many others, that the essential problem is that many Jews embrace the political philosophy/movement of Zionism and its resulting apartheid state of Israel. I still lean that way, but Atzmon suggests that these notions are facile, unrooted, or, at least, incomplete.