A movie so bad it's fun to watch[1] ___ 4/10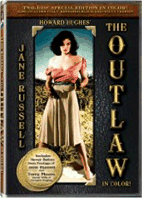 Prologue: "The Outlaw" is a story of the untamed West. Frontier days when the reckless fire of guns and passions blazed an era of death, destruction and lawlessness. Days when the fiery desert sun beat down avengingly (sic) on the many who dared defy justice and outrage decency.
---
Yeah, right. Avengingly?! Outrage decency?! Who wrote this stuff?
This movie outrages decency!