Young Americans for Liberty Used as "Rent-a-Mob" for Big Govt. Republican
By Shane Trejo, The Liberty Conservative [Original column here]
BREAKING: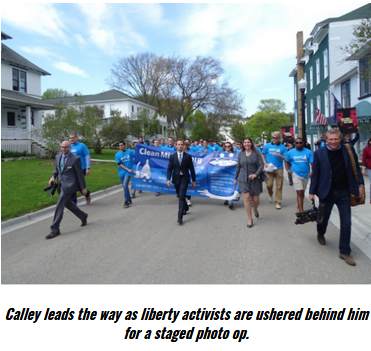 Just a few weeks ago, dozens of precocious young libertarians from throughout the country were bussed out to beautiful Mackinac Island in Northern Michigan. Advertised as "a ground breaking opportunity for liberty," starry eyed activists hit the pavement with enthusiasm and vigor to make liberty win. Little did they know they were being used as pawns by a big government politician with questionable values.
"You will be the deciding factor that brings Liberty to a state this summer and lays the ground work for exciting opportunities to come," Young Americans for Liberty boasted on their "Liberty Summer" page.
It continued, "It's time. All eyes will be on this. Want Change? Change Something."
Field representatives were offered $1,500 pay with housing provided as well as stipends for gas and "a month of liberty immersion" to participate in the project. One crucial detail conspicuously absent in the description was who the activists would really be working for: Michigan Lieutenant Governor Brian Calley. Continue reading →