A guide to spiritual enlightenment… by Eckhart Tolle
Review by Brian Wright
Major insights with transformative potential
1999, New World Library, 191 pages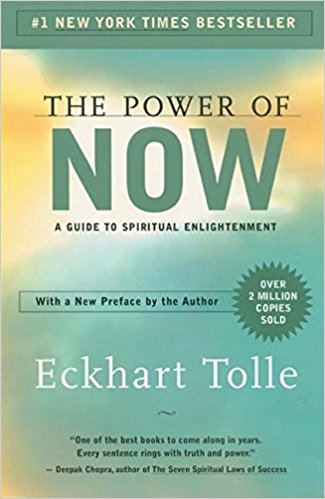 It's an enchanting thought, isn't it?  In the middle of a society whose centers of political power are emanating stale rot to the accompaniment of bugles, we're beginning to see a vibrant coalescence of awareness (COA) among ordinary people.  Extraordinary ordinary people that is. Spiritual enlightenment has become sort of a preoccupation of mine, not to say I've made stellar progress on my own but I like to see it and comment on it in others.  For example, I reviewed The Celestine Prophecy, a personally liberating book that gathered numerous devotees through the 1990s and beyond.  A fair amount of my other work on my site has had a theme of self-improvement or self-discovery or both, e.g.
book reviews of:
Zen and the Art of Motorcycle Maintenance
Think and Grow Rich
Building a Bridge to the 18th Century
The Secret behind Secret Societies
The Secret
movie reviews of:
The Matrix
Ulee's Gold
V for Vendetta (revenge-oriented but still spiritually gratifying)
The Da Vinci Code
and articles or columns of:
The Sacred Nonaggression Principle
The 15-Minute Spirit Charge
Brew Pub Nation (beer is proof God wants us to be happy)
Reflections on a Noble Soul (loss of my brother) Continue reading →