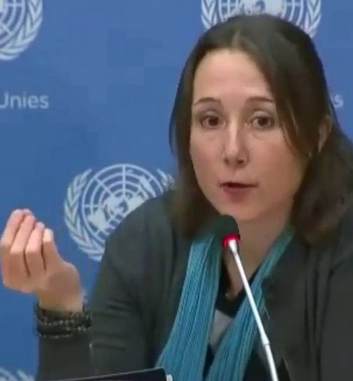 Ever since having utterly destroyed a smug mainstream journalist at a UN Summit over corporate media's claims that they had sources inside East Aleppo, hospital bombings, and other "atrocities" committed by the Assad government, Eva Bartlett has been the subject of a corporate media smear campaign.
Corporate media outlets and their NGO talking heads have maligned her as a "Russian agent," a "Syrian agent," and, probably the most ridiculous of all, even a racist (meaning white supremacist). This last one, of course, is a hallmark of the more NGO-funded or mentally handicapped SJW contingency, the usual suspects who compulsively make this accusation. The argument is that saying the alleged "revolution" of bearded jihadist freaks was funded and orchestrated by the West is to deny that Arabs have the ability to orchestrate their own subhuman revolution of savagery. (Yawn.)
Still, this is quite a resume for a Canadian woman writing for alternative media outlets who can afford to pay very little for contributors (if at all) and traveling to places like Gaza and Syria on a shoestring budget in often rather unpleasant conditions. With Russia taking over the world and all, it's surprising they couldn't at least find better travel arrangements for one of their agents (or at least a .com domain! After all, the Russian hacking ability knows no limits, right?). It's also odd that a white supremacist would find her life's calling defending the rights of brown people against Western, largely white, nations. But I digress…
The assertions made against her are so baseless and incredibly imbecilic that they do not warrant refutations, especially since her detractors will simply invent another attack when the current one no longer works. Today, a racist Russian/Syrian agent. Tomorrow an anti-white capitalist pig, perhaps. Only time will tell.
But, despite the smear campaign, none of the corporate NGO attackers ever address a single claim she makes. Instead, they go right to accusations, over-talking, and name-calling. If her statements were so bogus, they would be easy to refute, right? Still, there is no debate, only catcalls. The reason for this approach is simply because each time one of the mainstream media drones or an NGO fanatic engages her in an actual debate, they end up getting their asses handed to them on internationally broadcast programs. Continue reading →