Michigan responds with complete refund of income tax incorrectly withheld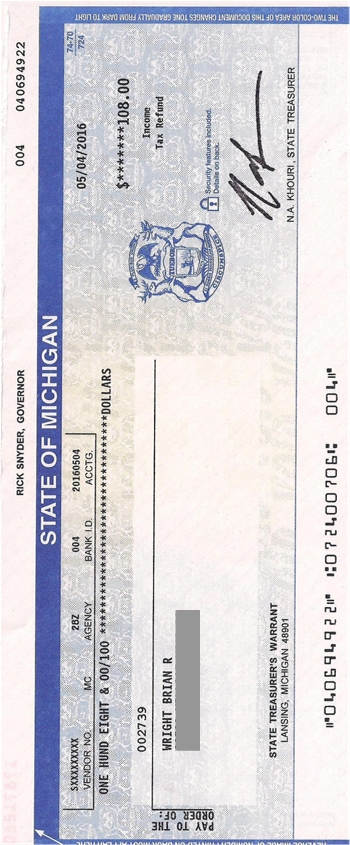 Note: This is a followup column to my original column two weeks ago, "The Elation of a First-Time Educated Filer," attesting to the liberating power of the so-called Hendrickson Discovery (ref. Pete Hendrickson's book, Cracking the Code)—simply on the occasion of filing! Now, I have a 'victory' to report.
First, the start of the good luck story

It was a strange day, yet a day any gambling man would have bought a lottery ticket…
Doing errands then winding up at the Novi post office, Thursday, May 5. Buying Media Mail stamps to send out my latest book to potential reviewers of stature… then returned to my car, an 1997 Mercury Villager that I've been holding onto for sentimental reasons, but I tell people it's an investment. Turned the key. Click, click, click. Dead battery, snow cone sized load of corrosion on the posts. First good luck: it's a day out of paradise: clear blue, cool breeze, no trace of toxic atmospheric aerosol spraying, 65 degrees.
Now more good luck: Right next door is my place of work, where I have a part time job as a med tech driver, also my manager is in. So he offers to come over there to jumper the car, using my cables. In the meantime, in a nearby parking spot, a nice fellow exits his car and asks if I need a jump, says he has a portable battery booster/jump starter. I say sure. Nobody has a wire brush, but I clean the goop off the terminals with paper towels as best I can, and the key turns it right over. Vrooom. Starts right up. Good Samaritan Guy points out that the gauge says my alternator is successfully charging, too. Continue reading →